Polina Kulikova, who is the prize winner of many international piano competitions and went on to enjoy a considerable international career, has developed her own style of playing, which deeply touches and inspires. We are pleased to have an interview with Polina today. The current geopolitical situation doesn't make it easy for her now. Polina is praying for world peace and also tries to carry the universal message of music to her followers. We spoke about Polina's current activities, her project "Coaching concerts", and other ongoing initiatives.
PianoMe (PM): Dear Polina, thank you very much for your time! It is a great pleasure for us that you're taking the time for an interview with PianoMe! After all, I know how difficult it is for you now.
Polina Kulikova (PK): Thank you so much for having me! I'm absolutely delighted to take time for you.
PM: That's great, thank you! First of all, we would like to briefly introduce you to our readers, even though many of them probably already know who you are. As an international concert pianist, you have already performed in many different countries around the world – which actually makes you the ideal user and testimonial for PianoMe! Recently, you have also started your own initiatives, like "Coaching concerts" and other projects.
PK: That's absolutely true, and I'm really very happy that I discovered PianoMe a couple of years ago! We are currently living through the very dark times, and I believe that it is extremely important to pray and to carry the universal message of music to the people. You know, music has the power to heal and unite, and transcend boundaries. Music is a universal language. It can make its way to listeners' heart, independently of which part of the world they are in.
PM: Thank you for bringing that up. Music has indeed the remarkable power to uplift the soul and remind us to hope. Is it not exactly the background of your new initiative "Coaching concerts", which you started in 2021?
PK: Yes, after months of silence due to the global pandemic situation I decided to start this new project. Already in 2019, I started my Home Concert Series with online streaming and commentary in three languages. These concerts became very popular. In 2020 I graduated from a special course and became a certified life-coach. The main idea of the "Coaching concerts" initiative is to touch people's hearts through my performances and coaching and therapeutical techniques, and bring positive change to their lives.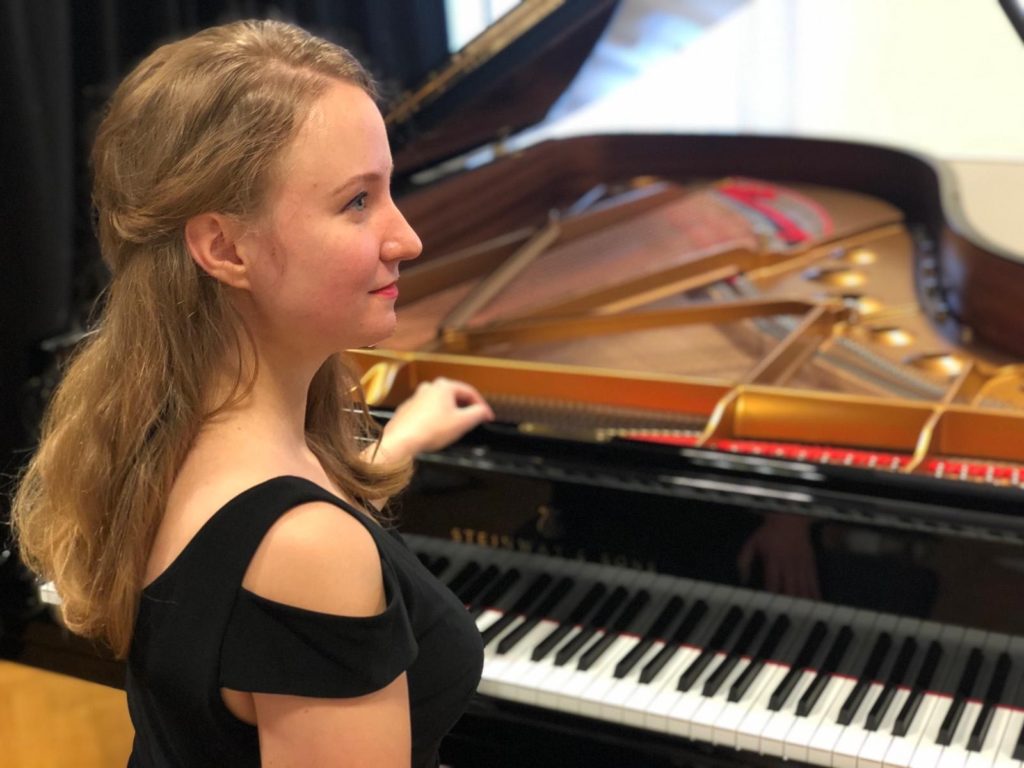 PM: It sounds like a huge help for many people! Can we speak about the background of this methodology?
PK: That's a great question! Unfortunately, more and more people suffer from burnout, depression, and other stress-related issues. We all face such situations in different seasons of our lives, which often leads to loss of confidence and makes us forget our dreams and who we genuinely are. On one hand, we have only very limited control over our own circumstances, not to mention the catastrophes that are happening in the world. On the other hand, the only things we can fully control are our reactions to these circumstances and difficulties. Through understanding and accepting our thoughts and emotions we have a chance to know ourselves deeper. The question now is: how exactly can we do this, and what are the real benefits of it? This exactly is the main point of my "Coaching concerts" concept. I do not only play piano. I create unique environments for people to meet their real selves, unravel their full potential and learn to use their resources for the best for themselves as well as for those around them. This happens through the combination of coaching techniques and classical music. There are multiple studies about the effect classical music has on stimulating the brain. It is truly amazing, and it's a wonderful opportunity to significantly increase the result of coaching and therapeutical techniques. For example, for my first Coaching concert I chose a technique that helps deal with so called negative emotions, like anger and resentment, and transform them to something useful and positive.
PM: By the way, how do you make your repertoire choices?
PK: That's also a good question! There are many factors that affect the choice of repertoire. Mainly it depends on the program being prepared for a certain performance. I take into account the location, venue and the expected audience. Then, I aim to create a thread, some specific topic for the program. You see, I love interacting with the audience during performances, and telling people stories about the background of the pieces or the composers, or even their point of views on a specific subject. I could say that I am a very talkative pianist. Therefore on my website you will see a slogan that says, "Classical Music Speaking to You". And of course, if we are talking about a coaching concert, I put together the pieces that will help people navigate through a specific technique and create supportive atmosphere. Each time I try to create different accents, and depending on the accent, I prepare the program. For example, for the "Emotional Healing" program I combined 24 Preludes Op. 11 by Alexander Scriabin and 24 Preludes op. 28 by Frederic Chopin. In this specific program I don't play the preludes in their original order, but mix them in accordance with the therapeutical process.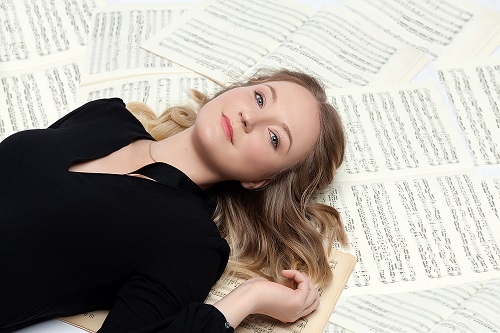 PM: It sounds like a hard preparation work! How can our readers attend your "Coaching concerts"?
PK: Simply reach out to me on Instagram or visit my YouTube page Polina Kulikova – Pianist Now you can also reach me on PianoMe.
PM: You also have another main focus in your activities – would you like to tell us more?
PK: Yes, I absolutely love playing chamber music and piano duos. It brings me so much joy to create music with other artists! For example, back in Moscow I used to be a member of a very successful piano duo called "Davidsbündler Duo". Together with my colleague Ekaterina Zhemaitis we won multiple international competitions and performed in many different counties. Unfortunately, after I moved outside of Russia, we had to stop playing together. Another project I have happily been part of is "Kammermusikraritäten" by the wonderful clarinetist Ruzaliia Kasimova. We recorded two albums of rare performed pieces for clarinet and piano written by Russian and German composers. These albums are available online. And I am looking forward to many more chamber music collaborations!
PM: What is your opinion on sharing rehearsal spaces by hosting a studio on hourly basis?
PK: As I'm traveling a lot, for performances or other reasons, I often need a place to practice. Based on my own experience, I know how difficult it can be to find a rehearsal space. By the way, that was exactly how I discovered PianoMe a couple of years ago. I was impressed by the platform and after I tested it myself I also became a host on PianoMe. I am so happy to provide an opportunity to fellow musicians to practice on my piano. It brings me so much joy to support my colleagues this way. And besides, being a host is a great source of (almost) passive income.
PM: Thank you for the praise! It shows us that we are on the right track. Would you recommend PianoMe to a friend?
PK: Beyond a doubt.
PM: Finally, what are your aims for the future? Would you like to share any announcement with our readers?
PK: I am looking forward to many more solo and chamber ensemble performances in the near future. I really believe that music stands among those very few things that are actually able to transform the world to a better place, and bring love and peace.
PM: Dear Polina, we thank you for the interview and wish you all the best!