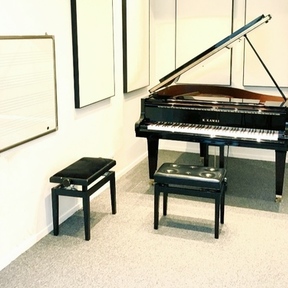 Lazar M
Standort: Brussels. Rue de la Bonté 11, 1060 Brussels.
Musikgenre: european music, classic, pop, jazz
Instrumente: piano, violin, cello, voice, guitar, saxophone, clarinette etc.
Tätigkeit: composer, vocal, instrumental, recording, mini concert (till 15 ppl), rent room for the online lessons with your teacher, with or without instrument, for interviews, preparations concert, competitions, exams.
We are a school renting rooms out of hours used by our teachers with different booking options in the center of Brussels, 8 min walk from metro Louise.
We have 5 rooms about 12m2-17m2 with different possibilities, baby grand piano Kawai, upright Yamaha and electronic Yamahas.
Each option has different price depending on which piano you book and with how many people, alone or more.
Please check carefully your chosen option.
Rooms are rented per hour for:
- 1 person without instrument (for other your instruments) - sorry we do not rent for drum sets rehearsing- 9,50€
- 1 person renting, e piano for students, singers for online lessons with free WI FI fast internet connection -11,50€
- 1 person upright piano practice - 13,80€
- 1 person preparing concert, competition practice grand piano - 16,10€
- 2 - max 4 person with electric piano - 17,25€
- teaching singing - you as teacher + your student singer with electric piano - 17,25€
- 2 persons upright piano, rehearsal duo, singer + pianist, student + teacher - 20,70€
- 1 person grand piano recording, rehearsal duo, singer + pianist - 23€
- teaching on grand piano - you as teacher plus your student - 23€
- interviews, online streaming max. 3 people (artist, light sound technician) with grand piano - 28,75€
- Rehearsal trio grand piano max 4 persons grand piano - price on demand
- for a mini concert (up to 15 ppl) - price on demand
If you do not find option you need, please write us a message and we will try to find a solution.
It is not possible to book for the ongoing day, only in advance, but do not hesitate to contact us and we will find an arrangement.
Please select room well accordingly to your needs. No cash or card payments possible at the spot. Please reserve online.