Yamaha piano in the center of Brussels, good location, nice area, green view
Students of Royal Conservatory periodical promotions
Room can be used for:
Practice - Singing/instrumental
Room can also be used for : online lessons
Allowed number of person (max.): 1
Room size:
10 - 25 m²
The dimensions quoted are approximate. Therefore, this information is voluntary and non-binding.
Noise level:
Calm, garden side.
Listing created Dec 11, 2019
Cancellation Policy:
Hosts
can always cancel the booking free of charge. In case of cancellation by a host you will be informed and the full amount will be refunded.
The person hiring the room
can cancel the booking free of charge if the booking is cancelled at least
48-hours
in advance (before the start of booking). Below is the summary of the cancellation policies made under
48-hours
prior to booking start time:
- No refund if cancelled 48-hours in advance.
- Full refund if cancelled at least 48-hours in advance.
Discover further options in a radius of 10 km in Bruxelles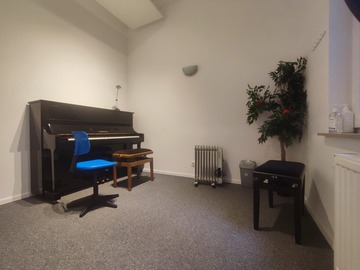 Instant book
2 pers. upright piano, singer+ accomp.