76199 Karlsruhe, Deutschland

Grand Piano

Music lesson, Practice - Solo, Practice - Singing/instrumental

Up to 4 person(s)

51 - 60 m²
The dimensions quoted are approximate. Therefore, this information is voluntary and non-binding.

Keine Vorgaben, hier stört man niemanden! ;-)
Description:
Mein Yamaha Digitalflügel steht mehr oder weniger ungenutzt in meinem Übungsraum in KA. Jetzt habe ich mich entschlossen das Instrument zur Mitbenutzung anzubieten.
Vielleicht hast du derzeit kein Klavier oder deine Nachbarn finden partout keinen Zugang zu deinen zeitgenössischen Interpretationen von Rachmaninow - schon gar nicht Abends.
Den Raum kannst du einmal Wöchentlich entweder Vormittags, Nachmittags oder Abends benutzen. Du kannst dir exklusiv einen Wochentag reservieren, musst du aber nicht.
Dein Monatsbeitrag beträgt dann zwischen 18 – 25€. Die Vermietung soll etwas meine Unkosten decken, einen Gewinn möchte ich damit nicht erzielen .
Das Klavier steht in Karlsruhe – Mühlburg, ca. 8 min von einer S5 Haltestelle entfernt, direkt davor gibt es aber auch immer freie Parkplätze.
Der Raum wird ab Oktober verfügbar sein.
Cancellation Policy:
The tenant can cancel the booking free of charge up to 24 hours before the start of booking, if the booking is made at least 24 hours in advance. In case of such a cancellation the full amount will be refunded. Inside the 24 hours before the booking starts, the tenant can't cancel the booking free of charge. Lessors can always cancel the booking free of charge. In case of cancellation by a lessor you will be informed and the full amount will be refunded.
Listing created Aug 13, 2023
Discover further options in a radius of 10 km in Karlsruhe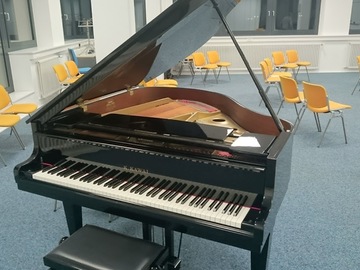 Instant book
Großer Proberaum mit Piano (Kawai-Flügel) in Karlsruhe