This time PianoMe caught up with Pamela to talk about what it means to be an orchestra musician and also about her experience of starting her own ensemble in a foreign country. We also spoke about her current initiatives and upcoming projects and she told us why she likes PianoMe's idea.
PianoMe (PM): Dear Pamela, it's a pleasure to have the chance to talk with you! You're a well-known clarinetist with an extremely impressive career. After all, I know you have a busy schedule.
Pamela Coats (PC): It´s a pleasure – thanks for inviting me!
PM: That's great, thank you! First of all, we would like to briefly introduce you to our readers, even though many of them probably already know who you are. As an international musician, you maintain an international performance schedule and have already performed in such renowned halls as Carnegie Hall, the Beethovenhaus in Bonn, the Berlin Philharmonic as well as the Chicago Cultural Center. You are a prize winner of competitions in Germany and Italy and also the Co-Founder of the non-profit organisation VivazzA e.V., as well as the artistic director of the chamber ensemble Sinfonietta VivazzA.
PC: Wow! What a great introduction! (laughing)
PM: Thank you! Can you please tell us first how you started getting into music, and as well, how you started playing clarinet, and what that's been like for you?
PC: My musical history is a bit unconventional, in comparison to a typical European musicians' background. I started playing clarinet in the 5th grade to perform in a wind band in school. I taught myself to play the instrument and received my first private lesson on the clarinet at the age of 20, when I attended the University of North Carolina at Greensboro for my Bachelor Degree. Since I was already in an unusual situation, I was free to explore many career possibilities within classical music itself. I was really curious from the beginning as to how the structure (organizational as well as artistic) of classical music is formed. Although sometimes it´s been hard to fit in or find my place within the classical music landscape, it´s also been completely freeing. The classical music structure doesn´t really have prominent examples of people like myself and so I´ve had to really go my own way.
PM: As an orchestra musician you have performed in both opera as well as symphonic orchestras. Can you please describe these experiences and the performance insights you gained?
PC: Performing in opera and symphonic orchestras has been really interesting. Sometimes it´s nice to come into an institution that is organized; the program is set, the music stands are up- the music is on the stand. The conductor comes, and boom- away, we go. (laughing) The orchestras that I´ve performed with have always brought together musicians with different musical backgrounds; some who are performing in other orchestras, some in chamber music. We come together for a musical moment and then you learn so much; also from the conductors. For me as an artistic director of the Sinfonietta VivazzA, I learn a lot from what I see behind the stage as well.
PM: Very interesting! Apart from your work on the concert stage, you also have another main focus in your activities – as an artistic director of the chamber ensemble Sinfonietta VivazzA you have won various top prizes in different top competitions. As a founder of this ensemble, can you please tell us what makes the Sinfonietta VivazzA Ensemble especial?
PC: Thank you for this question! VivazzA is a very special ensemble that is made up of strings, winds and harp and is musically based on the nonet formation which was originally written/founded by the composer and violinist, Louis Spohr. Our instrumentation is one of the biggest forms of chamber ensembles and at the same time, the smallest form of an orchestra. With our formation, we are able to perform a standard chamber music repertoire but also chamber versions of operas; such as Zauberflöte and symphony's such as the 3rd Symphony of Ludwig van Beethoven.  Under the motto "Classical music is for everyone" VivazzA champions seldom heard compositions and composers while bringing our love for chamber music/classical music to a broader audience.
PM: Thank you, Pamela. I really like the idea of the ensemble and I'm sure that it is not only me. By the way, as an entrepreneur myself, I know that the journey is never sweet and easy. Let's speak about music entrepreneurship. What does it mean to be a music entrepreneur?
PC: For me, being a music entrepreneur means having control of your career. Understanding that classical music is a business and that it´s important to know how the classical music system works. It´s not bad to think that you´re in a business. I don´t know why we, musicians, have accepted that the idea of performing well is enough to make a lasting career in the music world. Somehow, many of us think that if we have financial problems, it´s because we don´t play well or the music gods are against us somehow! I think that it´s important for every musician (from a teacher in a music school to an orchestra musician) to understand how their institution is being run.
PM: Interesting! How do you find running a "business" differs from playing in an ensemble? Would it be in some way correct to say, that ensembles are created when groups have a common challenge and work together to find the best solution?
PC: For me, running the "business" of my solo activities and VivazzA is definitely an important part of my musical activities. I actually don´t separate the two. I also think that ensembles more often are created when colleagues see a need or deficit within the musical landscape. These musicians then come together to fill this; be it a saxophone quartet, string orchestra or smaller groups.
PM: By the way, back to the ensemble: how do you make your repertoire choices?
PC: I am always fascinated with researching the histories of different composers; especially those who were important in their time (or even important within the history of classical music itself); but for whatever reason are not performed as often or not at all anymore. An example of this, would be the Nonet of Lousia Farrenc. Louisa Farrenc was the 2nd female professor at the Paris Conservatory and through the premiere performance of the Nonet, she was able to receive the same salary as her male counterparts. Another example is the Nonet of Rudolf Karel, a Czech composer who was also a political activist during the Second World War. He wrote his nonet in jail while being tortured by the NS-Regime (on toilet paper with charcoal for a pencil!). There are so many works that are just amazing, that should be performed and are worthy to be a part of the standard classical music repertoire.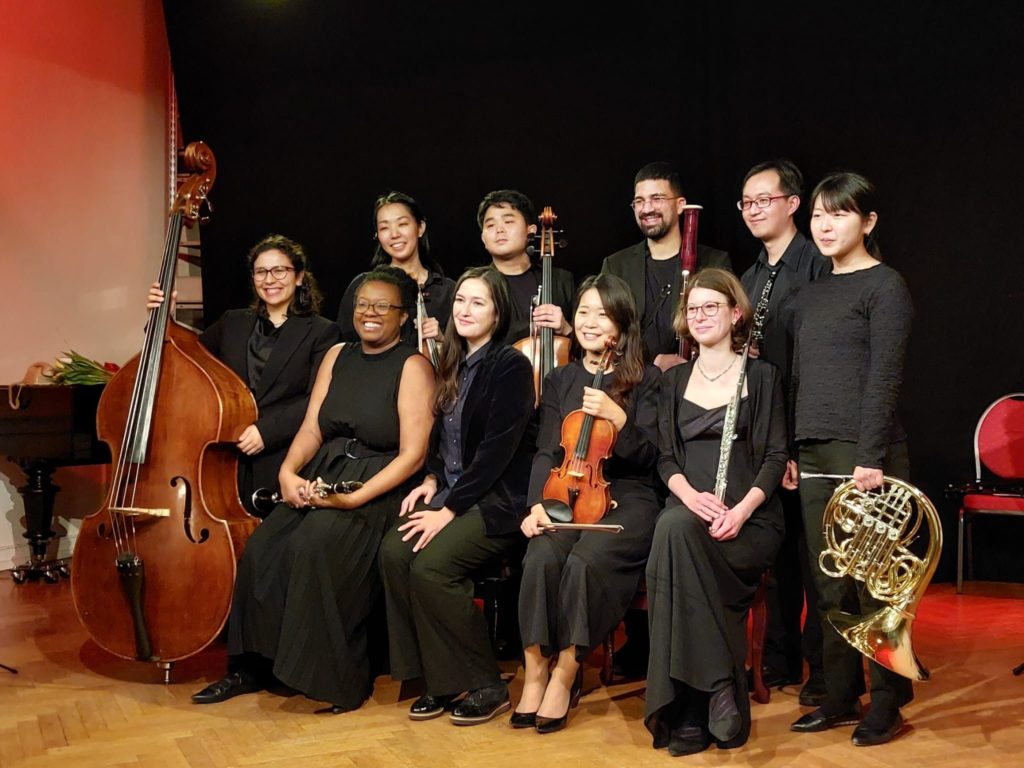 PM: We've touched on some of your current activities, but I'd also like to ask you about your general opinion on the chamber music in Germany. I was told once, that the functions of the classical music industry in Germany and the United States are completely different. Starting from the education systems all the way to the professional life, students and professionals in both countries are faced with different challenges and opportunities to fulfill their careers. You studied both in Germany and also in the USA. You were also able to gather professional experiences in both countries. Do you also think that there are huge differences?
PC: Yes, I do feel that there are definite differences – as well as similarities. First, to be able to obtain a degree in chamber music in Germany, is amazing! The possibility of forming an ensemble while studying and performing repertoire within the "safe" environment of a conservatory while building your reputation and entering several competitions; is worth its weight in gold. You also have the opportunity to network with other musicians as well as concert organizations and agents, etc. while still studying which can make your transition into the working world easier. Unfortunately, in the US there´s not generally such a degree – and you have to spend time as well as money taking courses (such as English, Math, History) that don´t help further your musical career. On the other hand, musicians who come out of the university system in the United States, generally like to experiment within different genres and come together easier to perform music. The funding situation in Germany on the state level is really well-done and allows groups to finance projects and concert series. In the United States, one has to depend solely on donations and private foundations, but it is possible to have a chamber music career as well there. In the States, it would be important for an ensemble as big as ours to be tied to a university for a musical as well as financial basis.
PM: Thank you, Pamela! What does networking mean in the music industry?
PC: In my opinion, networking means getting to know your fellow music colleagues, attending concerts (to support them as well as being inspired), talking with different sorts of institutions that could possibly be interested in funding your projects, meeting with concert organizers and/or inviting concert organizers to your concerts so that they can get to know you and eventually invite you to perform for their concert series. Just generally, believing that every fellow musician or colleague has a place in classical music as well as the potential to further the cause of opening the broader public to the wonders and importance of our profession.
PM: That sounds interesting! I'm really sorry, but I have to ask (laughing). What do you think about PianoMe and would you recommend PianoMe to musicians?
PC: I think that PianoMe is a very important tool for musicians. It is extremely important to have places where one can go to practice or record themselves. If you are a musician that´s on the road all the time – it´s great to know that you can rent a space that you don´t have to worry about disturbing any neighbors! You can just go in, relax and get important practice time in. Also, for the musicians who have the space to offer to other musicians- it´s important that these spaces get rented out so that the hometown musicians can pay for the space and we have more rehearsal spaces for musicians, in general. It´s great that PianoMe facilitates the coming together of both these different groups. I will definitely use this portal in the future!
PM: Thank you, Pamela! Finally, what are your aims for the future? Would you like to share any announcement with our readers?
PC: (laughing) There´s definitely a lot in store for the next season. You can find out more about my upcoming concerts on my Instagram.
For VivazzA please check our upcoming events on VivazzA's Instagram profile:
PM: Dear Pamela, we thank you for the interview and wish you all the best! See you again soon!
PC: Thanks again for asking. All the best!
Copyright photo:  Bernd Obermann