This time PianoMe caught up with the duo Blanc & Noir to talk about their experience as concert pianists and also about their current projects. They also told us why they like PianoMe's idea.
PianoMe (PM): Dear Selin, dear Yudum, thank you very much for your time! It is a great pleasure for us to have the chance to talk with you! You're a well-known duo with an extremely impressive career. After all, I know you have a busy schedule.
Selin Şekeranber (SŞ): Thank you so much for having us! We are absolutely delighted to be here.
Yudum Çetiner (YÇ): We are delighted to take the time for you. Thank you for your invitation!
PM: That's great, thank you! First of all, we would like to briefly introduce you to our readers, even though many of them probably already know who you are. You started your musical journey in 2008 and present your concerts with a colorful musical approach in which you blend traditional Turkish music with classical Western music. You are also the only Turkish pianists who have won the Jury Special Award from 200 competitors at the Ibla Grand Prize World Music Competition in Italy.
SŞ: We have known each other since we were children and we started music with the same teacher in Turkey. We have studied solo piano in Switzerland, Turkey, Russia and Germany. We have always been excited about chamber music and our friendship, and having the same musical background made us different and strong.
YÇ: We completed our second master's degree at the Stuttgart Faculty of Music and Performing Arts in Germany under the world-famous piano duo Prof. Hans-Peter Stenzl & Prof. Volker Stenzl and became the first Turkish piano duo to receive the diploma.
PM: That sounds great! By the way, what is the story behind selecting the name "Blanc & Noir" for your Piano Duo?
SŞ: The first festival we attended was the International Lausanne Music Festival. We wanted to send a band name there. We wanted to make a reference to the richness of different colours and contrasting characters.
YÇ: The fact that it represents the characteristics we have added to ourselves from our own culture and other countries we have lived in, and of course the colours belonging to the piano led us to such a choice.
PM: Very clever! You are pianists at the top of your game. Why perform as a piano duo? What was the event or thoughts that inspired you to do so?
SŞ: As pianists, we usually always work alone. Our repertoire is quite rich and most of the time we do not need another instrument because we have a polyphonic instrument. This makes our work both easy but also sometimes musically difficult. Many soloist pianists in the world also attach great importance to chamber music. Accompanying and working with other instruments is also essential for being a soloist.
YÇ: Breathing together, being one in two different instruments is a much more challenging and tiring process, but the resulting music and sharing that moment excites us more. Being a chamber music group means that you put your egos aside and just try to capture that perfect moment.
PM: And do you have a preference for two pianos or one piano four-hands?
SŞ: In fact, we do not have such a preference. It can be difficult to find two pianos in every hall around the world. As a piano duo, we need to master both repertoires.
YÇ: We can revise many of the arrangements we make as one piano four hands or two pianos according to the halls. In this way, we have the chance to share the works we have and want to have in our repertoire with our audience under any circumstances.
PM: With your performances, you are making the art of piano performance highly interactive. How does the aspect of interactivity, in your opinion, affect the audience's perception of music?
SŞ: Talking to the audience in our concerts, introducing the works and explaining the meaning of the works for us gives us as much pleasure as playing. It affects the whole concert environment and leads everyone to an even more sincere and warm process.
YÇ: In classical music concerts, there can be a wall between the audience and the artist. The path we have followed has completely changed the traditional classical music concerts. People build stronger bonds by understanding the works and getting to know them through the artists' narration. I think this is another feature that makes us different.
PM: Let's speak about your CD recordings. Your latest album "It's Electric" is a very innovative and extraordinary album. What is the story or inspiration behind your choice of composers and compositions?
SŞ: We decided that the timbre of Fender Rhodes pianos, which we discovered during our trip to America, suited the baroque period very well. The idea of combining the works of J.S.Bach, which we have performed with love and admiration throughout our entire career, with Rhodes came up. "It's Electric" is the first and only album recorded with Rhodes pianos as a piano duo in the world.
YÇ: The biggest difference of "It's Electric" is that there are two special arrangements written especially for us in the album, these arrangements, which Tobias Forster made for us, bring J.S.Bach to our century. J.S.Bach Toccata in D minor, and Partita in D Minor "Chaconne" were special pieces for the album. Apart from that, the works that we think suit the timbre of Fender Rhodes pianos are "Saint Matthew Passion, Erbarme Dich", "Gottes Zeit ist die allerbeste Zeit", and finally the Concerto in C minor recorded with the quintet.
PM: What was the biggest challenge in recording this album?
SŞ: This project, which I started planning during the pandemic, was due to be recorded in the USA and we had planned New York for video shootings. However, the whole plan had to change in line with corona restrictions.
YÇ: We thought that maybe it would be better this way and we were right. We really had the opportunity to meet and work with people beyond our dreams. There is a saying in our country that there is a good in every evil, we think it was like that for us.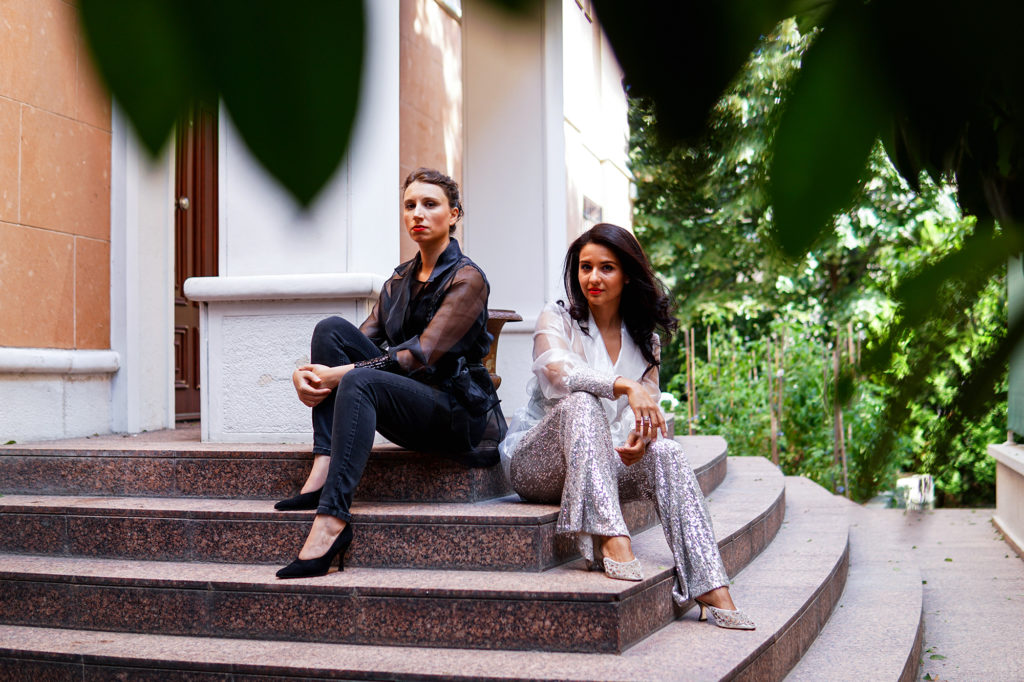 PM: That sounds really great! Let's speak about your US tour: During this your tour you organized concerts and master classes at the Greenspring International Music Academy, Virginia Commonwealth University and James Madison University. Can you please tell us more about your experience?
SŞ: The American experience was very special for us. Being with the musicians there was a great chance to see the musical and technical level of the students and to work with them. We participated in radio programmes and recitals, so we could reach more people. We will have another tour in the future.
YÇ: We carried our own music there and they met a different world. We met with young children and had an interactive conversation. We are planning to do this not only in America but also in different countries.
PM: Thank you! By the way, what is your opinion on sharing rehearsal spaces by renting a studio on hourly basis?
YÇ: It is not always easy to find a rehearsal space with the piano, especially if you are in another country. At this point, I think a platform that provides such a convenience will make all pianists happy.
PM: Thank you for the praise! It shows us that we are on the right track. Would you recommend PianoMe to other musicians?
SŞ: We think it's a great idea and also very professional. It helps lots of musicians and pianists.
YÇ: We are very happy to meet PianoMe. We think that good ideas should always be shared and supported…
PM: Thank you! Finally, what are your aims for the future? Would you like to share any announcements with our readers?
SŞ: We love to produce new projects. As versatile musicians, we have a surprise announcement that we would like to announce here for PianoMe readers for the first time.
YÇ: Our lullaby album "IMAGINE", which we specially composed for each month, is being turned into a book. Each month's lullaby and each month's story will be combined with the drawings from our illustrator Kristiana Parn. It will be an alternative note book that will appeal to beginners and everyone who loves piano music. "IMAGINE", which we have prepared in German, English and Turkish, will be published at the end of February and digital sales will be online.
PM: Dear Selin, dear Yudum, we thank you for the interview and wish you all the best! See you again soon in the rehearsal rooms or concert halls of PianoMe. 
Image copyright: Blanc & Noir